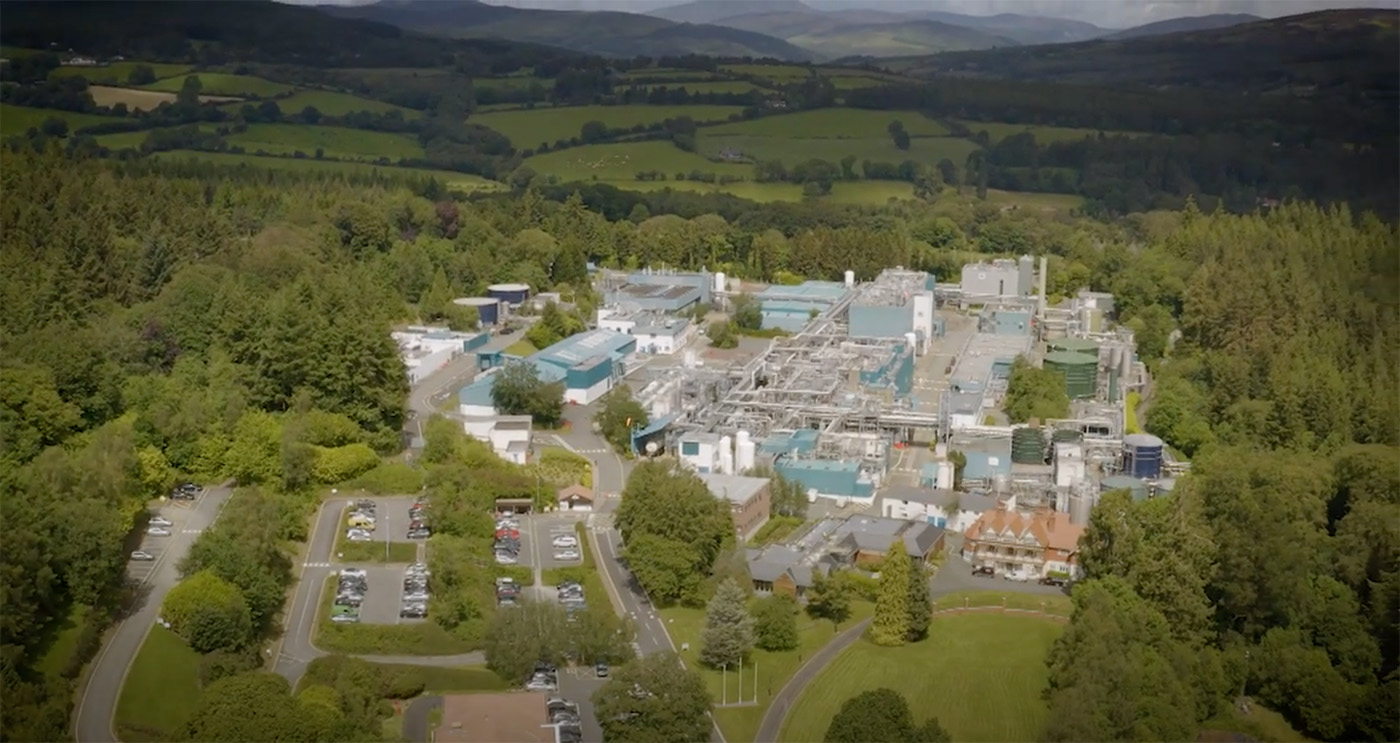 PLANET
The Drive to Protect Our Planet
Our Carbon Footprint
ASPIRATION
Minimize our carbon footprint

TARGET
Become carbon neutral in our own operations by 2030
2021 PROGRESS
Developed a hierarchical approach to achieving carbon neutrality in our operations by focusing on energy efficiency and minimizing energy load, capital project investments, and renewable energy sourcing.
In the first half of 2022, we will initiate energy audits at our top 10 energy-consuming sites that account for 90% of our energy footprint.
Moving forward, 2021 will serve as our baseline and we will report our progress towards this target annually.
TARGET
Source 100% renewable energy by 2030
2021 PROGRESS
13.5% renewable electricity sourced to date (RE100 commitment).
6.1% renewable energy sourced to date.
TARGET
Reduce energy intensity in manufacturing and R&D by 5% by 2025
2021 PROGRESS
Reduced energy intensity in manufacturing and R&D by 14%.
TARGET
Rethink business travel and work-from-home policies to reduce transportation-related emissions by 25%
2021 PROGRESS
Began evaluating policies and practices that will support a reduction of business travel and colleague commuting emissions and plan to report on actionable steps in next year's report.
In 2022, we announced a refresh to our Driven to Care sustainability aspirations for mitigating the company's climate impact. We set a new goal to be carbon neutral in our own operations by 2030. The target focuses on our Scope 1 and 2 emissions from our manufacturing and R&D operations, office locations and fleet vehicles. We also accelerated our commitment to source 100% renewable energy in our operations by 20 years – with a goal of achieving our RE100 commitment by 2030.
To achieve our carbon neutrality commitment, we will take a hierarchical approach to reduce emissions. Our first focus area is to reduce energy use at our sites: optimizing how we operate our utility systems and manufacturing equipment to minimize energy waste, as well as investing in sustainable equipment and design to embed energy efficiency and decarbonization into our capital projects. Underpinning this drive to reducing emissions, we will conduct energy audits at the ten sites that account for 90% of our energy footprint. In parallel, we will develop a strategy to electrify our fleet of vehicles and expand our sourcing of renewable electricity.
10% reduction
in Scope 1 emissions intensity of our manufacturing and R&D operations from 2020
5.5% reduction
in absolute Scope 2 emissions from 2020 (Based on location-based emissions)

Energy Use
Zoetis has long been committed to reducing our energy needs and this year we exceeded our target of reducing the energy intensity of our manufacturing and R&D operations by 5% by 2025. Driven by key energy efficiency projects and top line revenue growth, in 2021, we achieved a 14% reduction in energy intensity from our 2019 baseline. We know reducing our energy needs is critical for achieving our carbon neutrality commitment and we plan to continue to invest in updated technology to be more energy efficient. For example, a project to retrofit a spray dryer at our Chicago Heights, Ill., manufacturing site, resulting in a 10% reduction in energy consumption in 2021. At our global R&D headquarters in Kalamazoo, Mich., we delivered a 2% reduction in total energy consumption during 2021 through the implementation of energy efficient projects in utilities and lighting.
Vehicle Fleet
Zoetis' fleet of approximately 3,500 vehicles across 40 countries account for 7% of our total Scope 1 and 2 emissions, and thus, it is a focus of our strategy to achieve carbon neutrality. In 2021, electric vehicles represented 0.5% of our total fleet and hybrids accounted for 6.3%. As a part of our carbon transition plan, we are actively evaluating opportunities to increase the use of electric, hybrid and more fuel-efficient vehicles, while factoring in our field colleagues' needs with battery ranges and charging infrastructure.
In addition to shifting to electric and hybrid vehicles, where available, we aim to switch to more sustainable fuels and use technology solutions to help optimize routes. For example, in 2021, our Brazil operations launched Sustainable Route, an effort to encourage our Brazilian field force of more than 500 colleagues to use ethanol when fueling fleet vehicles. In Brazil, ethanol is sourced from renewable sources, such as sugarcane, which has a smaller carbon footprint than gasoline. As of January 2022, about 80% of our Brazilian field force has switched to ethanol.
Renewable Energy
As part of our aspiration to achieve carbon neutrality, we accelerated our commitment to RE100 by 20 years, with a new target of achieving 100% renewable energy sourcing by 2030. We developed a formal approach to procuring renewable energy through power purchase agreements, including a new 15-year virtual power purchase agreement with Vesper Energy, which will generate more than 40 megawatts of renewable energy to power approximately 33% of Zoetis' North American operations' projected energy needs. Our current efforts are focused in North America because it represents approximately
75% of our global electricity consumption.
Currently nine of our 28 manufacturing sites, along with three commercial operations sites in Norway, operate on 100% renewable energy, with our San Diego, Calif. diagnostic site recently added to the list. Additionally, our offices in Zaventem, Belgium, and Dublin, Ireland – the company's largest offices outside of the U.S. – are now being powered by 100% renewable electricity. As a result of these investments, 13.5% of our total electricity consumed is from renewable electricity.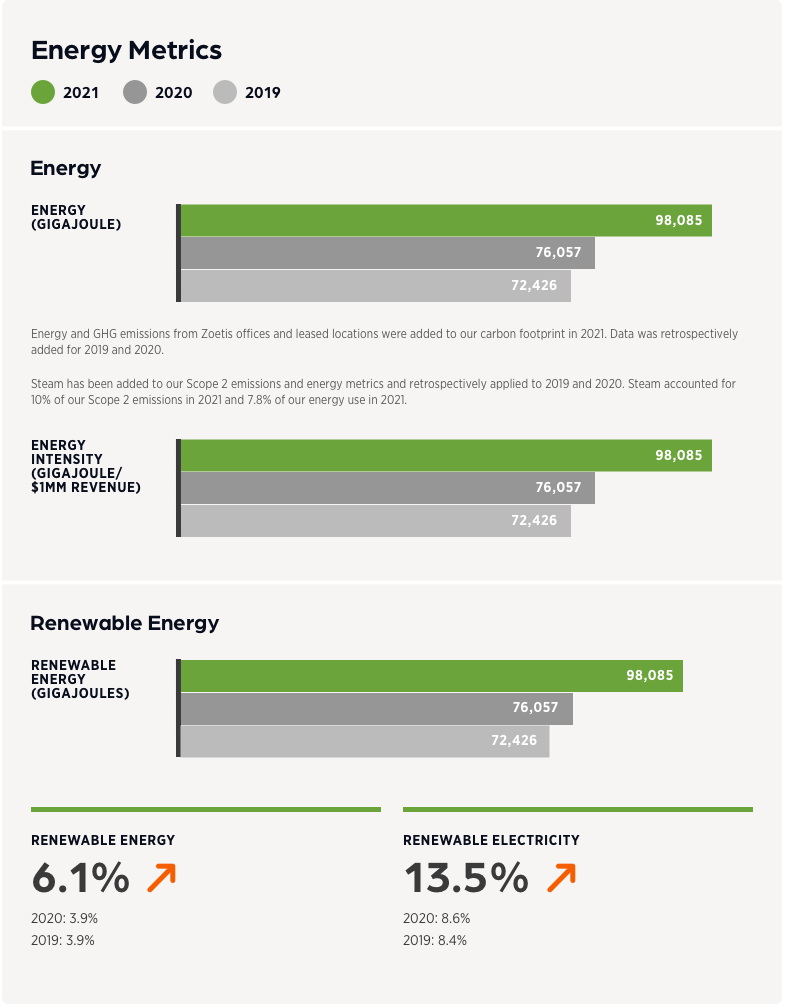 Reducing travel-related emissions
We recognize our responsibility to reduce our impact beyond our operational emissions. Therefore, we set an aspiration to rethink our business travel and work-from-home policies to reduce our transportation-related emissions. While our global travel volume is still 50% below 2019 levels, as we look ahead, we will identify opportunities to maintain reduced environmental impacts of travel. We will do this by understanding the largest contributors of business travel carbon emissions within our organization and identifying actionable reduction opportunities, including through policy changes, provider selection and trip reductions. We also aim to increase colleagues' awareness to empower them to make more sustainable travel decisions.
Throughout 2021, we continued to support colleagues based on their individual role, organizational and team needs. When possible, in line with local health restrictions, we offered colleagues the opportunity to work from home on a full-time or hybrid basis. As the pandemic subsides and we transition back to the office, we are evaluating policies that will allow our colleagues to maintain the flexibility provided by working from home, while also allowing us to reduce transportation-related emissions.

Up Next: Planet
Reducing Our
Environmental Footprint